DFK! finally back in the hizzouse. Holy Dearth of Posts, Batman! Getting married
totally
takes away from blogging time.
Anyway, hopefully I'll be hitting you with a slew of posts in the next couple weeks to help give Drkmorals a break. I need to wrap up that old
Facts
on the
Ground
Series. I wanna do a belated "entry" to the favorite mini contest Drkmorals posted about
here
. I need to do
Gamesday
Coverage
, and I need to talk Epic
Space
Nuns.
Oh, that's right, Gamesday USA. It's this Saturday, and for the first time ever I'm going. Three friends and I decided to go see what all the hubbub was about and make the trip this year, given that the cost is pretty low, all around. Only one of the four of us has ever been to GD, and for him it's been many years. We're heading up to Chi-town Friday, having taken off work and switched on-call weekends with my peer.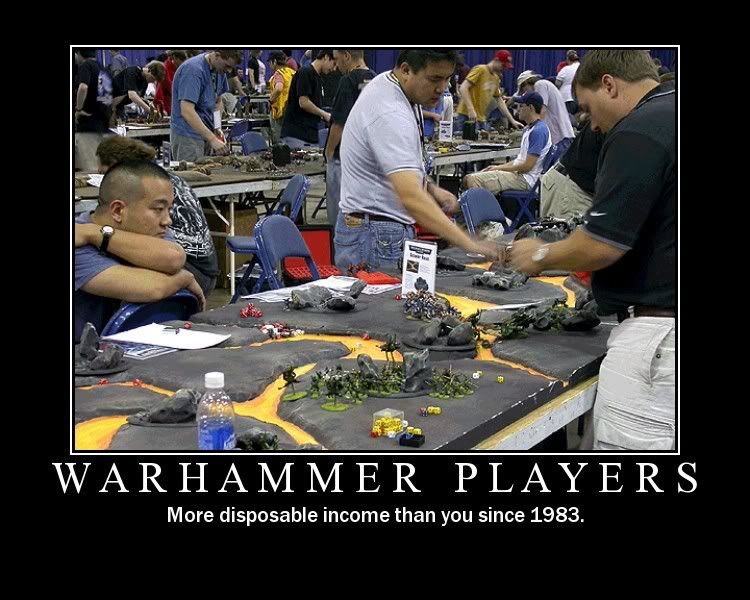 None of us are planning any gaming this year, we want plenty of time to take in the event, participate in activities, and hassle the developers for sneak peeks of the Future. Hopefully may find some decent Forgeworld product, as I have been saving up my "allocation" of purchases for this event. I intend to take a camera and get you all some insider footage, but beware I'm a bit of a bad photographer.
Keep an eye out for posts coming soon, it's good to be back, ya'llz.